Standard Prescription Pad, Blue 5.5"x4.25, (Not Security, single form)
Customize this item in 3 simple steps:

1.
Enter
the appropriate data
2.
Check
your customized PDF proof
3.
Order
the item

It's that easy!
click to enlarge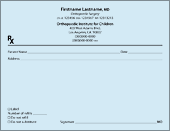 Each 5.5"x4.25" pad has 50 prescriptions
Minumum order is 5 pads
Price: $6.00 each
Step 1: Enter Your Custom Information
Please enter the information that you would like to appear on your prescription pad.
Please carefully check the accuracy of all the information on your PDF proof.
Step 2: Check Your PDF Proof
(No PDF Proof available, please complete Step 1)